New members
can
Join Us Online
here. You may pay by Credit or Debit card or use a PayPal account.
Alternatively you can download the
Word version
or the
PDF version
of the Membership Form and return it, together with a cheque for your subscription, to the Membership Secretary. The address can be found on the form. Although our membership year runs from 1st April,
if you join in March
you will be credited with 13 months membership, i.e. up to the 31st March in the following year.
If you join after the 1st October
there is a reduced fee that will take you up to the 31st March in the following year.
Existing members
can update their membership details, and renew their membership (if now due) on the
Members Portal
, read below for instructions on filling out the Members Portal login and completing your payment.
Logging on to the Members Portal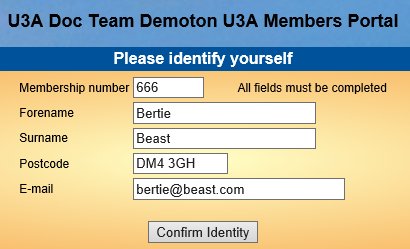 Type in your Membership number, Forename, Surname, Post Code and email address, then press
Confirm Identity
.
If you can't remember your membership number, it is shown on your Membership Card.
Forename and Surname are case sensitive and have to be entered exactly the same as on your Membership Card (which is generally all lower case except the first letter in upper case). Type the Post Code in upper case with a space in the middle, the email field is not case sensitive.
Beware of using predictive text or "copy & paste" to complete your name - it may insert a blank space after your name which will make the log-in fail.
If you are unable to log in to the Members Portal, it may be due to not having JavaScript enabled in your browser. This can be remedied as described at https://enable-javascript.com/
Paying Online
After pressing the
Make Payment
button, you will be asked to confirm by pressing
Continue to PayPal to complete payment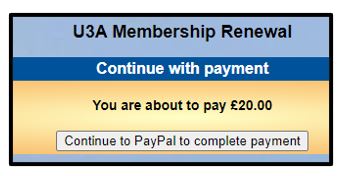 There will be 2 payment options presented -
If you have a PayPal account you may log in to your PayPal account by entering your email address and password [E] and clicking Log in [F].
Alternatively, if you wish to pay by card, click Pay with Debit or Credit Card [G].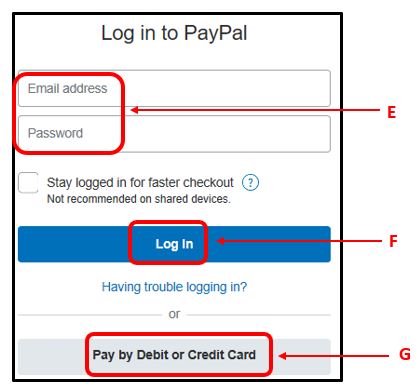 Payment by cheque
If you are unable or prefer not to renew your membership online, you may renew by sending a cheque for &pound12, payable to MKHD U3A to the Membership Secretary: Faith Walsh, 28 Moseley Court, Wake Green Road, Birmingham B13 9PU; enclosing a s.a.e. if you want your membership card posted to you. Alternatively it may be collected at a monthly meeting when they are up and running again.